An Evening with Mark Arax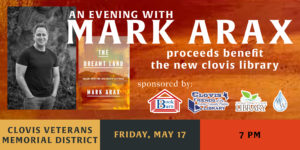 We will be hosting the release of award-winning author and journalist Mark Arax's latest book, The Dreamt Land, on May 17 at the Clovis Veterans Memorial District. Get your tickets now.
Off the Page
Are you an author or an illustrator? Are you interested in participating in our new author and illustrator showcase, Off the Page? Don't hesitate.
The Big Book Sale
Did you know that every year (usually mid-August) we have a giant book sale? Of course you did. It's a favorite event for many. See you this summer!
Subscribe to our mailing list:
About The Friends
The Friends of the Fresno County Public Library was formed in 1980 by a group of concerned citizens to serve as a link between the Library and the community and to raise money for special projects.
In the 1990s, the Friends of the Library supported the passage of Measure B, a 1/8 cent sales tax for the purpose of Library operations. Since the passage of Measure B in 1998 and again in 2014, library usage has soared—circulation has doubled and participation in library programs for all ages has increased dramatically.
The Friends of the Library is a 501 (c)(3), 509 (a)(1) and 170 (b)(1)(A)(6). Your membership and donations are tax deductible to the full extent allowed by state and federal law.
Donate securely using PayPal now!
Did you know?
Noble Credit Union, formerly Fresno County Federal Credit Union, is a Champion Business Partner with the Friends of the Fresno County Public Library.
That means our members are eligible to join the credit union! Read more here.