Donate to the Friends of the Fresno County Public Library
COVID-19 Status
Dear Friends,
As a volunteer organization supporting the Fresno County Public Library, we must first and foremost consider the safety and health of our volunteers and the communities we serve during the Covid-19 crisis. As the communities that we serve begin to open up, we will continue to follow guidance from the Library, Centers for Disease Control, California Department of Public Health, and the Fresno County Public Health Department to ensure that the health and safety of our volunteers and communities is always a priority.
As you know, the Library has returned to (mostly) normal operations (see FresnoLibrary.org for virtual programming available). While each branch Friends is making its own decisions as to when to return to services, many are still holding off until there is more certainty about the safety of volunteers and the community.
The Friends Book Shop is open, Thursdays and Saturdays, 9am to noon.
Going forward, we will continue to work in close partnership with the Library and health experts in anticipation for the time when we can begin fully serving our communities again. We will continue to update this page as developments warrant.
Thank you for your continued support and donations. We look forward to seeing you all and working together again soon.
Christopher Estep
President, Friends of the Fresno County Public Library
Book Donations
Due to the Covid-19 safety measures still in place, we ask that you follow these steps for donating books.
NOTE: We cannot accept Encyclopedias, Magazines, or Text Books.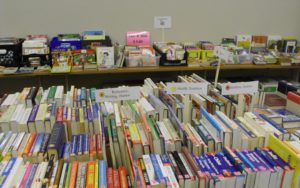 Some libraries are accepting donations; some are not. Feel free to call your local branch to see if they are accepting at this time. If your branch is not accepting, and you are not able to hold on to the books, follow the next steps.
If you wish to drop off a box of books, you may do so

behind our book store at the Sunnyside Branch

(Kings Canyon & Clovis). Leave the boxes on the concrete pad at the back door of the library, not in front of the library. Please

call 559-492-6657 and leave a message to let us know

that there are books to be taken inside by our book store staff.
If you have multiple boxes of books, please fill out this form and we will contact you as soon as we can to make arrangements.
Click here and fill out the form
Thank you for your patience and cooperation.
Subscribe to our mailing list:
About The Friends
The Friends of the Fresno County Public Library was formed in 1980 by a group of concerned citizens to serve as a link between the Library and the community and to raise money for special projects.
In the 1990s, the Friends of the Library supported the passage of Measure B, a 1/8 cent sales tax for the purpose of Library operations. Since the passage of Measure B in 1998 and again in 2014, library usage has soared—circulation has doubled and participation in library programs for all ages has increased dramatically.
The Friends of the Library is a 501 (c)(3), 509 (a)(1) and 170 (b)(1)(A)(6). Your membership and donations are tax deductible to the full extent allowed by state and federal law.
Donate securely using PayPal now!
Did you know?
Noble Credit Union, formerly Fresno County Federal Credit Union, is a Champion Business Partner with the Friends of the Fresno County Public Library.
That means our members are eligible to join the credit union! Read more here.